Legacy Award 2013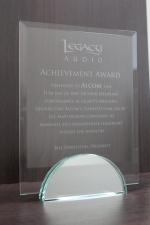 Dear partners!
We are proud to inform you that Alcom Company has once again been named a best distributor of Legacy Audio.
Official award ceremony took place at the annual Hi-End Show in Munich. Mr. Bill Dudleston the founder and the chief engineer of Legacy Audio personally presented the award.
We are very pleased that the efforts of our team and the support of our partners have received such high praise from the legendary brand with three decades of history. We are grateful to Legacy Audio and personally to Mr. Dudleston for the appreciation of our efforts, and we thank all our partners for their active participation in promoting the brand in Russia. Without your help, this victory would not be possible, and we believe it is our mutual success!
All news