Norway challenge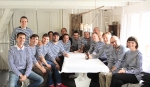 A group of the best Electrocompaniet Russian dealers and journalists of the leading hi-fi magazines spent 6 unforgettable days in Norway.
At the all-Russia dealer Conference last September Electrocompaniet and Alcom announced Best dealer contest "Big Fish".
Dealers from all over the country within 8 months had to demonstrate their professionalism and activity in promoting Electrocompaniet in the market.
After long and complicated contest the best of the best dealers along with the hi-fi journalists and Alcom team were invited to Norway the homeland of Electrocompaniet, where they got more familiar with the brand as well as Norwegian nature and culture that certainly also contributed to Electrocompaniet background.
The guests have unique opportunity to explore sophisticated production lines, the way Electrocompaniet accomplishes highest  level of product quality and reliability, find out new direction of the brand development, listen to new product and have vivid discussion with the owner and spiritual leader of the brand Mikal Dreggevik.
The unofficial part of the voyage hardly could be called leisurely: the active dealers chose the active way to get in touch with Nordic live: taking hard climb to Pulpit Rock, fishing in the open sea despite severe weather and exploring fjords. 
The challenge was tough but the result was dignified: getting closer to sacred hi-end truth, feeling the spirit of mysterious Nordic nature, big catch of various fish and unforgettable emotions and memories. 
Alcom's planning to develop this positive experience and make such a contest a regular practice for all its brands.
All news