Home audio conference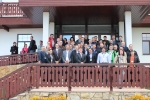 September 17, 2011 Alcom held Home Audio dealer conference at Volen Moscow Sport Park.
President of Legacy Audio Mr. Bill Dudleston the founder of the legendary Legacy Audio and the designer of all its speakers for the first time came to Russia specially to visit the conference.
Electrocompaniet CEO Mr. Mikal Dreggevik made an interesting presentation of the celebrated Norwegian electronics brand.
The head of Quadral international sales Mr. Volker Schwerdtfeger presented plans for the further development of the brand in the Russian market where it has become a favorite brand for audiophiles who appreciate its combination of imposing design and sound quality.
In addition to product presentations, the conference program included informal communication between manufacturers and dealers, exchange of experience, as well as various entertainments.

The conference was attended by over 60 dealers and journalists.
All news