AURUM TITAN VIII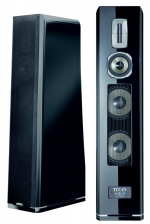 TITAN is the name of a range of speakers that continually bring new dimensions to the listening experience and has done so for longer than 30 years. The characteristics inherent in every TITAN speaker are the merging of traditional and innovative technologies as part of the continual advancement in the world of sound quality. More than ever before the new, highly impressive TITAN VIII embodies the claim of its designers – to create a speaker that is as close to ideal as possible.
The TITAN VIII, which is accomplished in both style and tone, is now thrilling experts as well as HiFi experts, who are heaping praise on the eight generation of our TITAN range. The new TITAN speakers have attained an overwhelming high-end platform with previously unobtainable clarity, detail and acoustic colours together with sheer, unthinkable dynamics and unequalled sovereignty. Its musical intensity and fervour are both extraordinary and poignant.
The TITAN VIII's exceptional status is the result of numerous technical innovations and optimisations. The ribbon-tweeter has been completely re-developed according to the principles of a real ribbon loudspeaker: Its gossamer and feather-like membrane is in close contact with two hugely powerful neodymium magnetic blocks. The membrane is somewhat finer as compared to its predecessor and it can clearly handle greater ranges and it is so effectively damped at the rear that this ribbon speaker reproduces astounding music and the finest tone details with phenomenal ease!
All news