Alcom conference in Turkey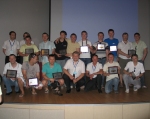 May, 23-28, ALCOM held dealer conference in Side region, Turkey.
The conference was devoted to new products of four car audio brands: Art Sound, Eton, Kicker and Revolt Audio. The event was attended by more than 40 companies and journalists from the leading magazines and online news media.
Phillip Schneider, marketing and sales director and Guido Semrau, product manager of Eton company (Germany),  presented a new lineup of car HI-END products from Eton to the participants of the conference.
Eton representatives announced the launch of RSE - a new speaker  line,  a successor of the famous top selling RS line. Another major accent was made on a product category actively promoted by Eton – factory radio upgrade kits. These kits perfectly fit OEM locations of most VW, Audi and BMW cars and deliver significantly better sound compared to standard equipment .
Kicker conference was split in two major parts. First, Reese Gray, director of sales for Europe and Aaron Malin, the global trainer from Kicker (USA), presented new Kicker products and stressed on technical ideas and know-how's that make Kicker top selling car-audio in the US. Then Aaron Malin presented his own survey on marketing strategy and selling tactics for international dealers.
Art Sound and Revolt Audio products were presented by ALCOM's technical trainer Dmitry Domakhin.  Art Sound announced updates of existing lines as well as introducing completely new ones for 2011. While AS speaker line had a major cosmetic change, AM speaker line changed mostly from the inside. A more powerful design made these speakers truly universal and suitable for both head unit and external power amplifiers. But the main event was in the amplifier family. New Art Sound XD amplifier line sets new standards in car audio – extremely small size, extremely high output and extremely high efficiency  of full range class D make the future closer.
Revolt Audio has presented a new entry-level amplifier line. Though it's a conventional A/A-B class, it is still very compact. Subwoofer mono amps use class D and can be hooked up in master/slave configuration to deliver real power for SPL needs. 
Dmitry Kipelov, marketing director of ALCOM, presented Alcom marketing strategy for car audio brands for 2011, reminded about running contest for customers of Kicker and Art Sound, and announced a new motivation program for the dealers.
This year ALCOM celebrates 15 years. Lev Martirosyan, general director, reminded the participants about the most interesting solutions, the company used during that period to promote car audio in our country. Unique demo cars, new technologies in the production, the unbelievable demo stands at the biggest car audio shows, corporative events and parties - ALCOM has pioneered a lot of solutions in the Russian market. And today the main goal of the company and its dealers is promotion and development of car audio movement in our country. ALCOM is grateful to other distributors, who also understand the importance of car audio ideals.
The best car audio dealers of Alcom in 2010 have been officially awarded with certificates.
In addition to formal presentations, awards, questions and answer sessions on topical issues, ALCOM dealers had the opportunity to communicate with manufacturers' representatives in informal atmosphere.
The professional discussions took place on the beach, at the dinner tables and on the sport fields. Sport teams of dealers, manufacturers and ALCOM participated and won in many international competitions in volleyball, mini football and other beach sports.
All news