Art Sound contest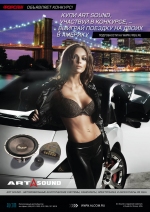 "Forsazh" ("Auto tuning") magazine announces the contest «ArtSound' girl! Have fun with your girlfriend in America!"
You love speed, drive, fun parties, beautiful girls and loud music? This contest is specially for you!
Pump up your wheels with ArtSound - American speakers and electronics from US and take part in the contest! Make your girlfriend a star! Win the grand prix and have fun in America with your girlfriend and ArtSound! 
Terms: 
     * Buy Art Sound subwoofer, amplifier or speakers from April,25 to  September,30 2011.
     * Keep a proof of the purchase.
     * Take a photo of your girlfriend with a purchased Art Sound or on the background of Art Sound installation in your car.
     * Upload the photo to the Art Sound group at Vkontakte website: 
www.vkontakte.ru/artsound_russia
     * Grand Prix a trip for two to America! Minor prizes - every week!
Details: 
www.frsg.ru
, 
www.vkontakte.ru/artsound_russia
All news