Kicker on CES 2011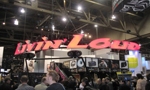 KICKER unloaded its potent lineup of gear for 2011 this week at the International Consumer Electronics Show in Las Vegas, with more than 70 new products for your ride or your head!
 
We'll bust out loud, low bass in 2011 with the release of the newest Solo-Baric L7, and its new counterpart, the Solo-Baric L3. Still bad-ass and the best out there, Solo-Baric continues to set the curve in high-performance bass in your car. Solo-Baric Sub Boxes are fresh as well, having you skip building the enclosure and putting you one step closer to anarchy.
 
How 'bout powered subs? That's right – it's wicked woofer and amp all in a tough box! You have it installed, and then you can hook it up or remove it quickly and completely whenever you want! Comes in handy when you have extra gear or butts to haul. SubStations come filled with Solo Classic or CompVR subwoofers and 400-watt Class-D amps, or BassStations give you all you need, including a dual-woofer model.
 
KICKER component speakers have always rivaled the best, but ours go through live listening tests before they ever leave the house. We'd put our KS Component Systems, KS Coaxials Speakers and Tweeters, or our DS-Series of Components and Coaxials up against anybodys. Top-grade parts and 38 years of KICKER knowledge – it should be all you need to know to give'em a try.
 
Power. Something's gotta make our woofers go, and we've put together the perfect amplifiers to make KICKER gear move. Cutting-edge IX-Series Amplifiers, workhorse ZX-Series, and down-and-dirty DX-Series amps boast awesome new features for the new year and any possible system setup you want. Check out the ground-breaking IX Amplifiers on the kicker.com IX page – its design is unsurpassed and it sounds better than any amplifiers we've ever produced. AND… it's got a smaller footprint than most magazines.
 
Wind up your toys as well with new KICKER elements audio gear – the KMT60 Long-Range Tower System can call to shore or the wakeboarder on the end of your rope. PS5250 Powersports Coaxial Speakers give you clear, loud sound now on Victory motorcycles or early-model Harley's.
 
For your head, throw on a pair of TJ Lavin-designed HP541TJ Headphones – DJ-style for ultimate comfort while you listen to your fave mix. Or shut down the tunes and take a call with the in-line microphone and multi-function button!
 
Our new KB6000 Full-Range Speakers have always been great for the pool or patio even though designed for off-road vehicles. But now they're specifically designed to work with your home stereo receiver for the best sound yet. Put out the 20 minutes it takes to install them and throw a party!
All news