Art Sound Satin nickel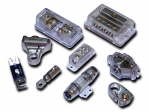 ART SOUND introduces new materials for power installation accessories. Now along with the classic 24K gold plating most of Art Sound power gear has a stylish satin nickel finish. Nickel plating provides improved corrosion resistance meaning that all high current connections will remain clean and oxide free, ensuring the best current transfer. An oxide film has relatively high resistance and leads to a significant voltage drop at each connection, increased current consumption and car's electric system overload resulting in noticeable sound decay. 
ART SOUND does not pull cheap tricks and continues to use only the best materials. Underneath nickel plating it is still pure alpha bronze, providing superb current transfer and outstanding mechanical durability.
Lineup of available power accessories is expanded to meet market demand:
APD248 power distribution block – 1x2 AWG input to 1x4 AWG and 2x8 AWG outputs;
MB12 AFS fused distribution block - input 1x1/0 AWG input to 2x4 AWG outputs;
FHM300 ANL fuseholder with a digital VM;
BT48N/P battery clamps – 1x1/0AWG, 1x2AWG, 2x4AWG compression terminals;
ANL and AFS fuses with nickel finish and expanded rating range.
All news