Legacy Whisper HD won StereoMojo Maximum Mojo Award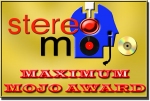 Whisper XD loudspeakers by Legacy Audio won the highest  appraisal of  StereoMojo, authoritative American internet-media for  Hi-End acoustics connoisseurs: 
"A $20,000 speaker that's a bargain? Understand, we regularly hear and see speakers that costs as much as a house, well up into 6 figures. We have heard stereo systems, just stereo - no video or surround - that retail for $1,000,000. There are many speakers these days that retail for well over $40,000. It is our opinion, and that of many show goers and other industry professionals that the Legacy Whisper XD in terms of build quality, versatility, technology and overall sound quality competes with speakers that are far more costly. We don't know of any other speaker at or near this pricepoint that gives you so much, and as such we are proud to award them our Stereomojo Maximum Mojo Award".
All news