Kicker IX Series Amplifiers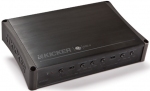 KICKER® IX-Series Amplifiers deliver dependable, high-efficiency Class D power to a mobile audio system, and all from the smallest chassis ever developed by KICKER engineers. IX monoblock amplifiers provide plenty of power to a system's subwoofer, despite having a heat sink of less than 10 inches long. 
The three models –a pair of Class D subwoofer options and a full-range, Class D four-channel – are the first of their kind from KICKER, giving the user a slew of features any music lover will certainly appreciate: a super-small footprint, lesser weight and a stackable design for more fuel efficiency and increased cargo space, differential inputs for significant noise reduction and compatibility with any factory radio, three choices of automatic turn-on modes (remote, DC offset, or signal sense), and the high power efficiency of Class D technology. An additional, often overlooked benefit is that each individual KICKER Amplifier's actual power always exceeds its rated power, as documented inside the carton. 
The IX1000.1 and IX500.1 Mono Subwoofer Amplifiers (1000w and 500w respectively, 2 Ohm at 14.4V) uses energy-saving Class D power to create hammering bass in the most sophisticated installations. IX Sub Amps offer a 24dB/octave low-pass electronic crossover and a 24dB/octave, high-pass subsonic filter fixed at 25 hertz. They each have up to +18 decibels of KICKEQ™ bass boost centered at 40 hertz and a mountable remote bass dial for controlling from the dash. Installers and DIY'ers will appreciate the simplicity of all connections located on one end of its small footprint, and all user controls opposite. 
The IX500.4 Four-Channel Amplifier (125 x 4, 2 Ohm at 14.4V) puts system choices with the installer, providing full-range, Class D power from a compact chassis less than a foot wide. Its internal, 12dB/octave high-, low-, or all-pass electronic crossover is variable from 50 to 200 hertz. The IX500.4 uses the same bass boost as the sub amps, but also includes a useful fader dial. 
All three contain "soft-start" circuitry that lessens initial shock load when powering up, and a muting circuit to eliminate audio trash that might surge down the line. IX-Series Amplifiers also provide thermal protection, over-current, and low- or high-voltage indicators, as well as a sharp illuminated model badge in blue.
All news