ETON FORCE subwoofer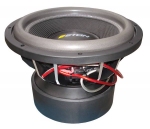 With these speakers ETON stepped onto the SPL field and is going to prove it belongs there.
ETON's new SPL woofer series is one of the most powerful innovation this year. The looks of this woofer are already threatening: Heavy and rugged cage, huge magnet and an enormous membrane made out of woven fibres. Heavy bass combined with high quality sound was the target when planning this series.
ETON managed to produce SPL driver, which are good in playing musical bass as well, which is not surprising, since ETON has always been paying special attention to sound quality.
15-inch speaker's weight is 30 kg.
All news