Final result of "Art Sound Trophy"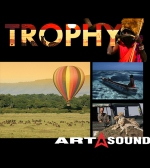 Dear Partners,
We're happy to announce the final result of Art Sound Trophy contest.
Within 3 months our dealers and end-consumers struggled for fabulous voyage to exotic Kenya.
7 winners will leave cold Russia for a remarkable week of picturesque landscapes, marvelous wildlife, magnificent ocean and hot beaches of Kenya.
Alcom is very grateful to all dealers for taking part in the contest as well as for efficient support of Art Sound!
All news