Merry Christmas and Happy New Year!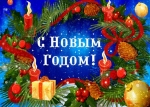 Dear Partners!
On the holidays eve, we'd like to thank you all for unflagging support we have been enjoying this year. You helped us to make this year one of the most eventful years in our long history.
To meet new challenges we moved to more spacious and comfortable office and increased our stuff considerably.
We arranged campaign for car audio dealers and end-consumers, involving widest media channels, topped with adventurous trip to wild Kenya.
We started portable electronics and accessories, interesting and fast growing business as well as helping us intermediately with our traditional ones.
Next year, no doubt, will bring more work and fun and now we would like you to enjoy this nice break between two busy years and wish you
a happy Christmas and a wonderful New Year!!!
All news