Vinyl Jam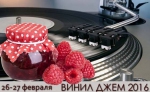 Alcom is happy to invite all audiophiles to a traditional exhibition of the best achievements in analog sound - "Vinyl Jam 2016", which will be held from 26 to 27 February 2016 at the Moscow oldest vinyl store Nota Plus, 50 bld.1, Big Ordynka, Moscow, Russia.
At the event you will be able to listen to, watch, discuss and buy the best the vinyl industry can offer, as well as talk to our specialists about all related issues and just have a great time!
This year Alcom will present two hot items from the legendary Electrocompaniet:
the first turntable in the history of the company - ECG-1
and a new generation of phono stage - ECP-2
We invite all friends, fans of high-quality sound to one of the most exciting events of the high-end winter 2016!
All news